Bicycle Accidents
With its rolling terrain, 300-plus miles of bike lanes and trails and its popular "Bike Library" program, Fort Collins ranks among the most bike-friendly cities in the U.S. With laws that are specifically aimed at protecting cyclists' safety, Colorado is a bike-friendly state as a whole.
However, even in a region that celebrates cycling and promotes bicyclists' safety like our own, bicycle accidents still happen. In too many cases, they are the result of negligent or intentional car driver misconduct.
If you or a loved one has been involved in one of these accidents, bicycle accident attorney Steve Ray wants to protect your rights and help you seek the compensation you deserve. Contact our Fort Collins bicycle accident lawyer today.
Consider the following:
What You Can Do if a Car Hits Your Bicycle

If a car driver crashes into your bicycle and causes you to suffer injury, you can take legal action by filing a personal injury claim. You may be able to recover funds that will pay for your medical expenses, lost income, pain and suffering and other losses.
You would need to show that your crash and injuries directly resulted from the driver's wrongful conduct such as speeding, driving while distracted, driving while drunk, or running a stop light at an intersection.
You could also base liability on the car driver's violation of Colorado's bicycle safety law. This law took effect in 2009 and covers common sense safety rules such as:
Three-foot rule – The law requires car drivers to leave at least three feet of space between the right side of their vehicle (including all mirrors and other projections) and the left side of the bicycle when they pass.
No buzzing allowed – The law prohibits motorists from driving their vehicle unnecessarily close to, toward or near a bicyclist in a "careless and imprudent manner." Cyclists refer to this as getting "buzzed" by a car. It is also called "crowding and threatening" a bicyclist.
No harassment – The law makes it a misdemeanor offense for anyone to throw an object at a bicyclist. Although these types of "road rage" encounters are rare, they can be extremely dangerous when they happen.
Riding on the left – The law requires bicyclists to ride far enough to the right side of the road as reasonable. However, it provides exceptions. The bicyclist can use the left side of the road when preparing to make a left turn at an intersection or into a private road or driveway, passing a slow-moving vehicle or when taking necessary precautions to avoid a hazard or dangerous road condition on the right side.  The law makes it clear that a bicyclist is not required to drive on the right side if conditions make it unsafe.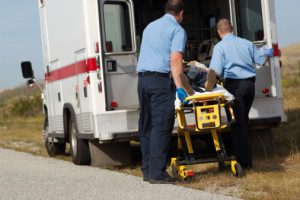 Keep in mind: Colorado's bicycle safety law also places a duty on bicyclists. In particular, the law generally requires bicyclists to ride single-file unless they are on a path or roadway designed for bike-only traffic. If they are riding two abreast on a road, the bicyclists cannot "impede the normal and reasonable movement of traffic."

This is important. When you file a claim against a negligent or reckless driver, you will deal with the driver's insurance company. The insurer may try to argue that you were equally at fault or more at fault than the driver for causing the accident.

For instance, the insurer may point to your own violations of Colorado's bicycle safety law, such as riding two abreast and disrupting traffic. This is why it is crucial to seek help from a personal injury lawyer who will vigorously protect your rights.

Bicycle Lawyer Serving Fort Collins and Northern Colorado Bicycle Accident Victims
Bicycle accident lawyer Steve Ray, wholly supports cyclists in Fort Collins and other Northern Colorado communities. We believe that one of the ways to promote cycling in our region is to protect those who are harmed by car drivers who violate our laws.

If you or a family member has been harmed in a bicycle accident, contact our law firm right away. We will move aggressively to seek compensation for you. We have more than 35 years of experience in dealing with insurance companies and taking personal injury claims to court.

You can contact us by phone or online today to schedule a free legal consultation.

For More Information:

Bicyclists and Other Cyclists, Traffic Safety Facts, National Highway Traffic Safety Administration
Pedestrian and Bicycle Safety, Governors Highway Safety Association
America's Top 50 Bike-Friendly Cities, Bicycling
Fort Collins Bike Library, Bike Fort Collins